Ever thought that Google and Facebook can work together to give you a great experience in marketing? 🤯🤯
Amazingly, it is possible.
I'll tell you how!
But before that…
Do you know the power of building an email list?
I am not talking about buying email lists. I am on the note of building it from scratch.
This email list will play quite importance here.
So, have you used Google Ads for your business/your client's business?
I believe that you know how Google Ads work.
Yes, it is based on keyword-targeting.
And you may know, when someone visits your website/landing page/blog through Google, how important and targeted that person is.
He/she is your warm lead searching for something which you are presenting/providing.
What I will do here, in this email, is to show you how you can sell this warm lead your product/service by targeting him through Facebook Ads using Marketing Automation.
Before that, you need to have these things ready and handy.
#1: A Lead Magnet which your potential customer should have from you.
#2: An Email Marketing Tool
#3: A Landing Page with a form to capture leads.
Now, let's focus on the process.
Step #1: Create a welcome email inside your email marketing tool and add a link to your Lead Magnet in the email.
Step #2: Set up this email to trigger whenever you receive a new subscriber inside your email marketing tool.
Step #3: Create a Custom Audience inside your Facebook Audience Manager.
Step #4: Use an Automation tool like Zapier to connect your email tool and custom audience (as shown below).

Step #5: Set up one more automation in Zapier that will send your landing page form leads to your email marketing tool.
Step #6: Now, you can go ahead and set up Google Leads Ads that redirects the person to your landing page where he/she can get fill the form and get your lead magnet.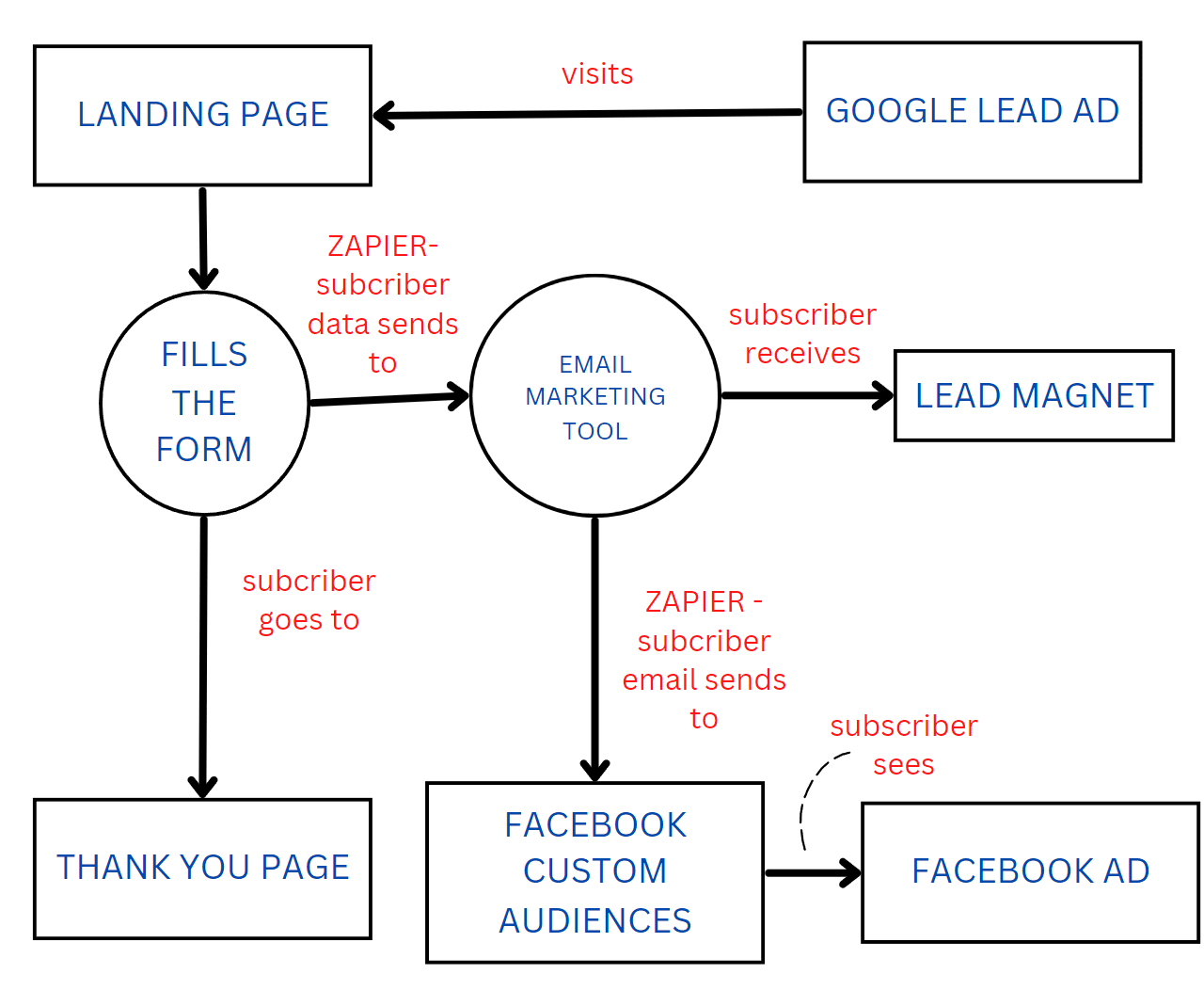 This makes the purchasing rate higher as the customer is already subscribed to you and has learned from you through your lead magnet.
A study has shown that using this flow, the chances of your customer buying from you will increase by 70%. And that's huge!
Start building your list today and convert them into paying customers!! 🤗🤗
Have questions?
Email me at h@husainbohra.com and I'll make sure to solve it!